I'm very jealous of all the ladies that went to Blogher. Especially when I saw that they got free pasties! Though I wonder if the crafty bloggers brought their own.


While they were bonding and drinking I was hanging out in Kenosha, WI. at the Bristol Renaissance Faire. That's right lad
ies, the Bristol Fa
ire. Black leather costumes, 100-
degree heat and $3 kiddy rides -
try not to envy me too much.
When I was handed some free tickets to the faire I snorted out loud. I'm all for dressing up in costumes, in fact it's something I'm keeping in my back pocket for husband and I when we need to spice things up after the kids move out. But I'm not much into the giant turkey leg medieval gig. And I love fairs (without the "e"). Throw me a corndog and a crap-walk and I'll just about wet myself. Then it dawned on me that I had a little 3-year-old pirate that would love to see knights and princesses and I had to go.
Of course I managed to drag Carol and her family with (picture is of Carol's daughter Marjorie and my daughter). As she and I always sign up for adventures-beyond-reasonable-expectations, a 100 degree day out in a WI field sounded good to us. All in all we actually had a pretty good time. Because of the heat we didn't get to spend as much time in some areas as we would have liked (we stuck to the shady groves) but here are the highlights;
Husband remarking (after his second tankard Miller Light), "I had forgotten about all the boobs" "Lots of boobs", sips beer, "Yup, boobs".

Son's jaw dropping when he saw the shop that sold Knights clothing and weaponry.

Walking over to the cooling mister with the kids and waving at husband and his brother Dave who are staring in my direction slack jawed. Looked behind me and saw two well endowed women in chain mail bikinis lifting each others costumes outward so the mister could get inside. Snort.


Not realizing that the people actually "cruise" the faire. There are bars every 40 paces and many pixies and dragon slayers hanging around trying to get into each other's codpieces.







Digging that all the kiddy rides were self-propelled versus seizure inducing music and light contraptions.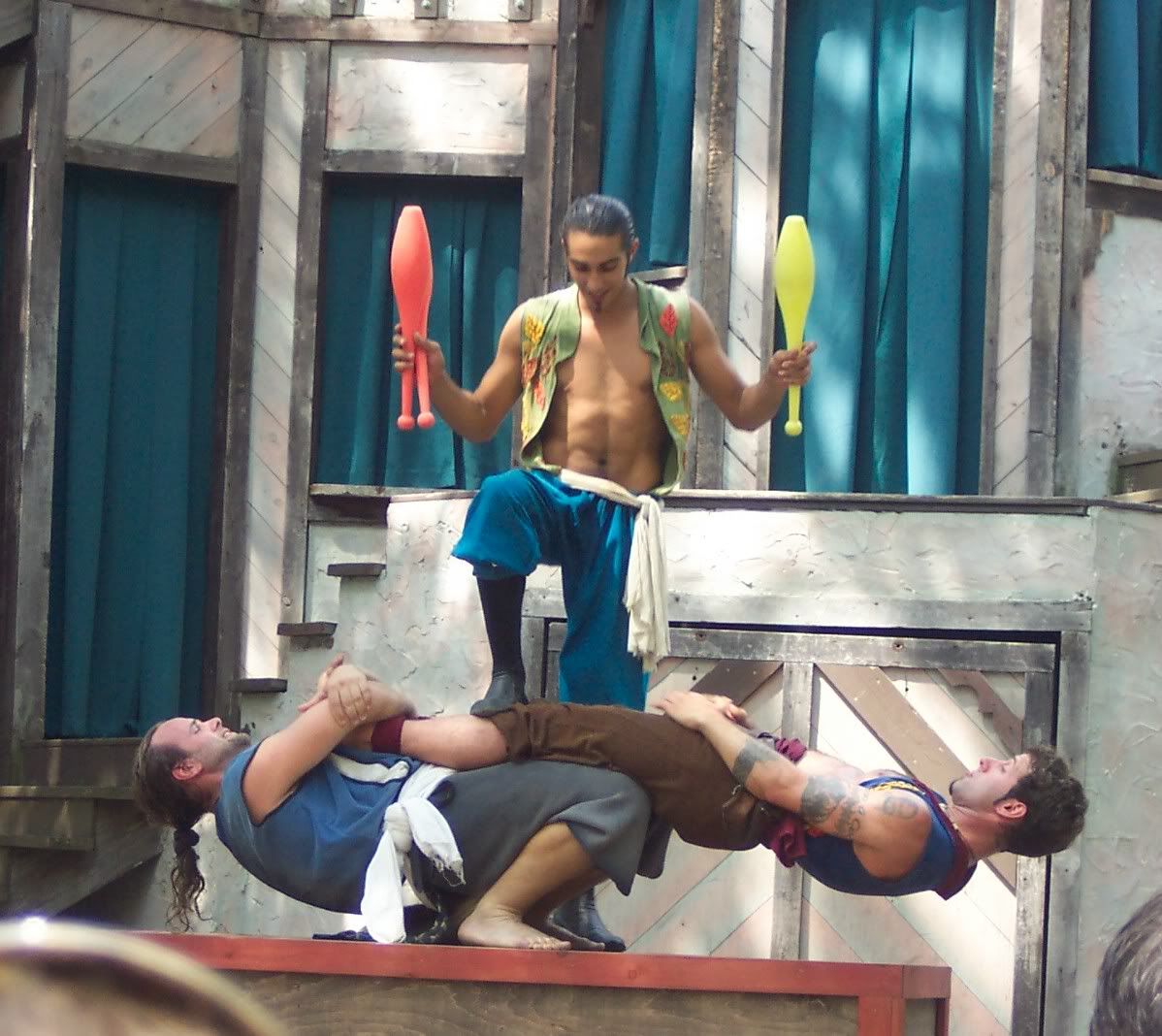 Watching some cute and sarcastic acrobats perform a show. Hard and flexible, can't beat that!







Son walking up to a King and Queen after a children's show and saying, "I'm going to be a King when I'm bigger." (awwww.)






For anyone with kids that are into fairy tales the trip is worthwhile. Far more hard-core than the trying-too-hard Medieval Times there are no paper crowns at this faire. People are damn serious about their role playing and it makes for some wild crowd watching. Next year I'm going when it's not so steamy so I can get a henna tattoo and palm reading. But I draw the line at costumes. Well maybe a Wonderbra and peasant top, but that's it!